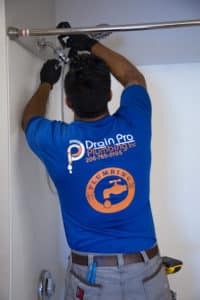 Your plumbing pipes are critical to the delivery of water throughout your home. They experience daily wear and tear from constant use so your piping material may become rusted and start to decay after years of use. It's important to have your pipes checked regularly, to ensure they're strong enough to support your home's plumbing. If a pipe bursts, becomes blocked, or there is a leak within your walls, it's important to contact an experienced plumber before costly damage occurs.
In this case, Drain Pro Plumbing is here for you with our repiping services!
As a repiping specialist in the Tacoma area, we have years of experience in assisting with pipes, pipe replacement, and repiping in all types of homes. If you have concerns with the pipes in your home and are considering repipe service, contact us and our specialist will work with you to address your repiping needs.
Let Drain Pro Plumbing repipe your house with our years of experience and quality services! 
There are certain signs that Tacoma homeowners can look out for to catch the need for repiping early. They are usually easy to tell, and the combination of them serves as a stronger confirmation that it is time to call your local certified plumber. Some signs that determine that it may be time to do repiping include: 
Your water is coming out a brown or red color. 

Your home is more than 30 years old.

The water pressure in your home is unusually low. 

There are constant pipe leaks in your home. 
Repiping is a large and expensive job, but it can save a lot of money and stress in the future. It will eventually need to be done anyways, but it will be better to do it before there are water leak issues.
DrainPro Plumbing is a full service company with a team of professional plumbing technicians committed to our customers. We keep current with the latest industry advancements, machinery, and standards to ensure that we provide you with utmost care and quality services in King County! Get our company on the line to talk to our specialists and get the best repipe service in Tacoma!
Call Drain Pro Plumbing now to get ahold of our repiping specialist in Tacoma so you can schedule repiping in your home!