At Drain Pro Plumbing, we pride ourselves in offering affordable prices and quick sewage and sump pump repairs and installation.
Both residential and commercial properties can need sewer and sump pumps to assist in the plumbing systems used in their basement and crawl spaces. Drain Pro Plumbing has professional and experienced plumbing install technicians ready and available with tools, injectors and supplies on hand for any sump pump requirement you might have. We can provide you with a quality inspection and complete the install services in your basement at your convenience.
Emergency Sewer and Sump Pump Repairs 24/7
Our all day emergency plumbing repair service is also here for sewage and sump pump problems. If you live in the local Tacoma or Seattle Washington area, call our repair and maintenance number at 253-236-5000, or contact us online. If you are experiencing any type of failure or need something fixed right away, we're here for you!
Sewage Pumps

The pump system used for a sewage sump pump helps to remove built up waste. They pump it out to the city's outdoor sewer line and septic tank, to help keep it from accumulating in the sump pit. A home or business in Tacoma that sits low to the water line, may find it needs a sump pump to help prevent flooding from occurring in the basement. With our services, we will make sure waterproofing of the pipes and insulation is also taken care of.
Sump Pumps
Drain Pro Plumbing can also assist in finding the right type of sump pump for your specific needs, as there are two types of sump pumps used. The first type is a submersible pump, which as the name implies can be submerged underneath where the waterline sits. The second is a pedestal pump, which is designed to sit up higher and turn on for when the waste hits a specific level.
Our company can help provide an estimate for any maintenance, waterproofing or installation cost you might need. If you are unsure of how difficult the drainage might be in your homes plumbing system we can help find what your options are. Our Tacoma reviews reflect our care in keeping repair and installing cost at affordable rates, and making sure the water pressure system and sump pump will keep your basement and crawl space nice and dry.
Signs It's Time to Replace Your Sump Pump
There are several warning signs that help you know when to replace a sump pump. Look out for things like:
Sump pump is constantly running without shutting off
Flooding in your basement or other areas of your home
A grinding noise from the motor — this indicates that the bearings are going bad
If you notice any of these signs, or you want to learn more about sump pumps and whether it's time to replace yours, give us a call.
Sump Pump Services done Professionally
It's vital to have sump pumps installed properly to avoid needing further care down the road. Drain Pro professionals are here for the Tacoma community to always ensure:
A hole is dug at the lowest point for the sump pit

That your foundation is kept in good condition through the whole installation process

At least 10' of space has been kept from the interior walls to prevent structure damage

That the system is functioning properly for the waste to be pumped up and away from the property
To always use correct installation processes to make sure everything lasts and is done the right way the first time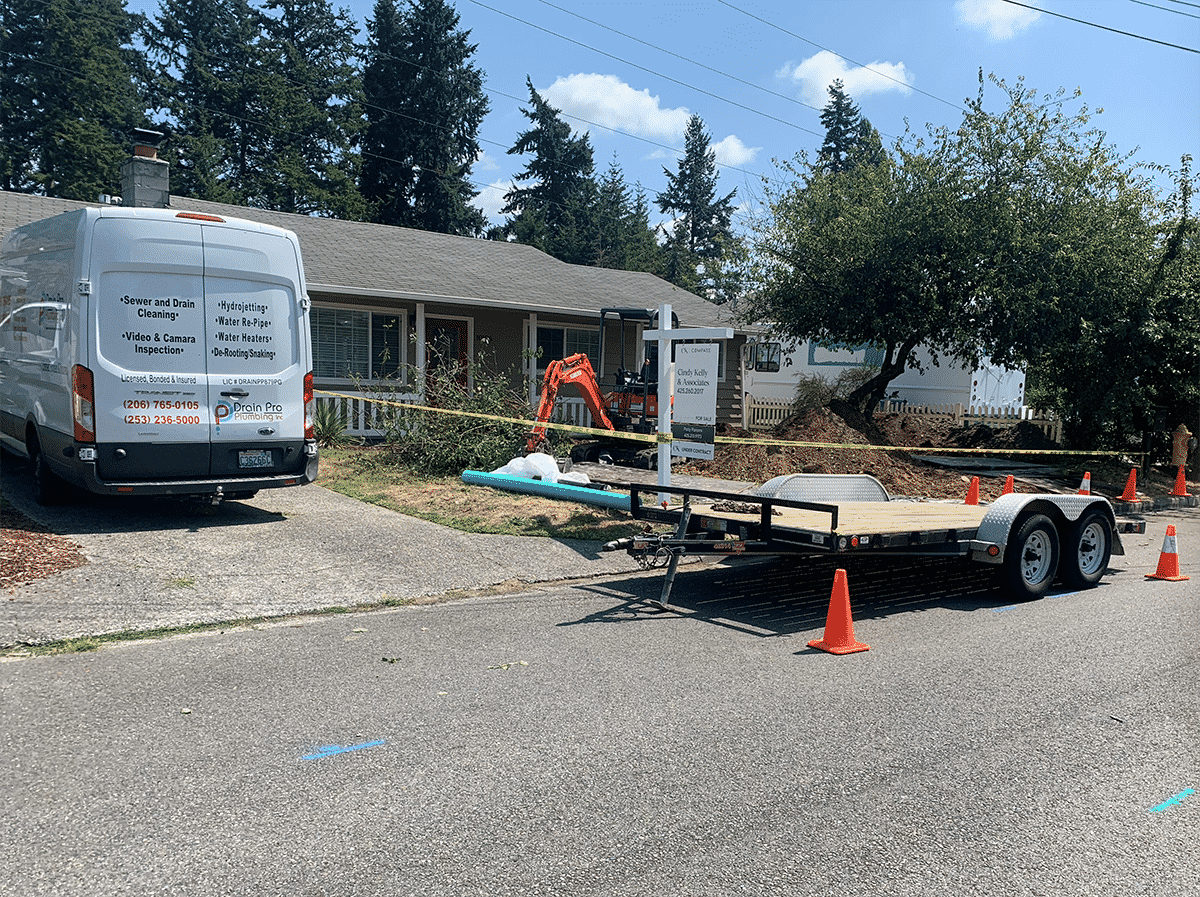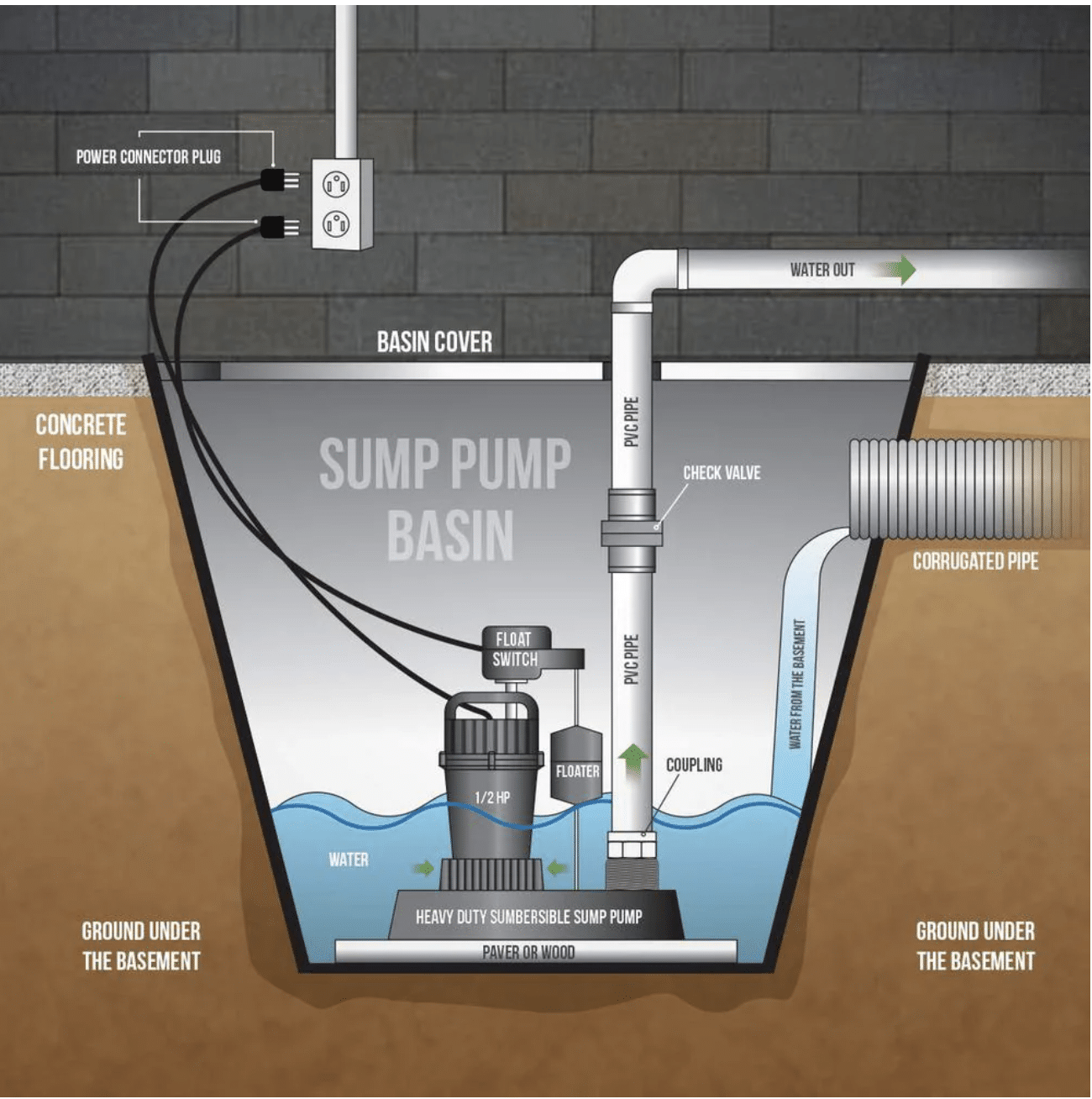 What is a sump pump?
A sump pump is a device that moves water from your basement to the outside of your home. A sump is a naturally constructed pit, usually a hole carved below the main surface of your basement floor. This pit, known as a basin, holds the sump pump. The pump is equipped with valves that sense escalating water levels or pressure. When the water gets too high, sump pumps automatically pump excess water out of the basement and away from your property using a discharge line. This line, called an effluent, connects the sump pump to a designated drainage area.
How does a sump pump work?
A sump pump is a mechanism that detects elevating water levels and pressure to ensure that these levels do not rise too high. These pumps use a switch to detect water levels in the basin. When the switch is activated by a rising water level, the pump turns on and directs water into a discharge pipe and away from the home's foundation. A pump can be powered electrically, by battery, or by water. Primary pumps are typically wired in, but many sump pump systems contain a backup pump that is powered by either water or battery in case of a power outage.
Call DrainPro today for all your Tacoma Sump Pump related and other plumbing needs.